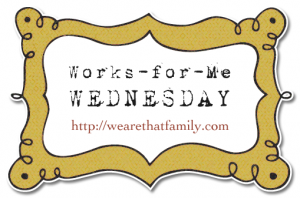 Hey Everyone! I hope your week is going well!
I follow this awesome blog called
We Are THAT Family
(awesome Christian woman!) and she hosts a "blog carnival" called Works-for-Me Wednesday. So I am just going to share something that works for me! haha...I recently have been trying to trim down our budget at the grocery store without losing quality in what I buy. In the past, I would go with a plan in mind of what I was going to cook that week and what all I needed but it seemed like I spent WAY too much money and WAY too much time! (all of the children typically had melt downs and so did Mommy sometimes ;) So I thought to myself I have to figure out a way to get in and out but get everything I need and save money!
Well I found it and it really works! I first start with whatever my budget maybe for the week and then plan my meals out for the week based on that. I then make my shopping list in order of the aisles(I typically shop at Aldis and Walmart so I know their aisles well! haha). I get everything I need when I go. I stay on track budget wise, and I get out within an hour!!(which is fabulous whenever you have 3 little ones and are nauseously pregnant!)
Well this is something that works for me in my diaper filled world! Let me know something that works for you! I love new ideas! (especially if they work for us too:)! )
Blessings and Love!!
You can find some awesome ideas that may work for you at Works-for-Me Wednesday by We are THAT Family.